I'm sure we all have a favorite Martin episode, I know I do, actually I have more than one! Martin is nostalgic for many reasons, and it is also a monumental show from the 90's. His creativity and versatility of comedy is evident though characters such as Jerome, Sheneneh, Roscoe, Bill from Marketing and more. He made a lasting impact in television history.  Whether he was fighting with Ms.Geri, telling Tommy he didn't have a job, or breaking out in dance, he was making history with his show. If I had to choose an order of my absolute favorite episodes though, it would go a little something like this…
No Justice, No Peace: Season 2 Ep. 16 In this episode Martin runs a stop sign and gets a ticket. Instead of accepting the ticket, he decides to go to court challenge the ticket and represent himself! He calls his friends as witnesses and puts on a classic performance as he pleads insanity as a last result to get out of the ticket.
Memorable Quote: "Got the Draws!" "The day of the geechi is over!"
Suspicious Minds: Season 2 Ep. 17
Martin's CD player has gone missing. In an attempt to get to the bottom of the it, he invites the gang over for a night of questioning. his episode mirrors the classic scene from New Jack City.  In true Nino Brown fashion he insults and interrogates his friends.  This episode is even funnier because you can see the cast fighting back their real laughs!
Memorable Quote: "Cole sit you $5 ass down before I make change!"
Romantic Weekend Season 3 Ep. 24

Martin and Gina attempt to take a romantic trip, only to arrive and the place is not as advertised. To make matters even worse, Tommy and Pam are also there for a romantic getaway. With a trashy room, and not much privacy, they attempt to make the most out of the trip until they find a "puppy" in their room!
Memorable Quote: "That ain't no damn puppy!"
Love is a Beach Season 3 Ep. 27
Frustrated with their families interfering in their wedding, Martin and Gina flee to the Bahamas to elope. With Pam and Tommy by their sides and Babyface singing, they officially tie the knot!
Memorable Quote: Last time I can get my boogie on before I'm a married man, I'ma gon head and boogie by myself"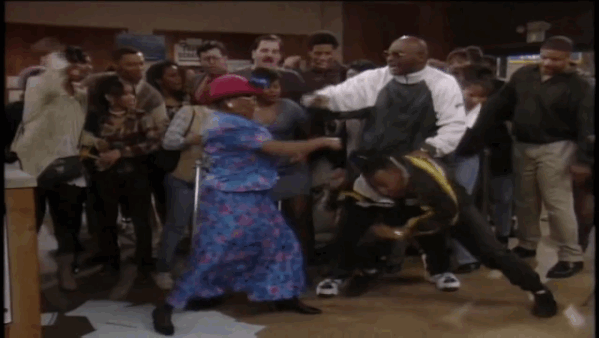 Martin's driver's license expires. So, he and Tommy head to the D.M.V. to get it renewed. His experience is just as bad as anyone else's as he gets into a fight with Ms. Geri, and she gives him a run for his money!
Memorable Quote: "You so almondy"
What are your favorite Martin episodes? Let me know in the comments!